Date
12-14 October, 2017
Location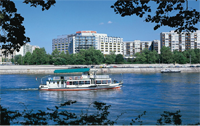 Danubius Hotel Helia
H-1133 Budapest, Kárpát u. 62-64.
GPS: N 47.526128, E 19.055397
www.danubiushotels.com
Congress president
Prof. András Palkó MD, PhD (Szeged/HU)
Organised by
the Balkan Society of Radiology, president Prof. Dimitrios Tsetis (Heraklion/GR)
Under the auspices
of the Hungarian Society of Radiologists, president Prof. Viktor Bérczi (Budapest/HU)
Local organizer
Prof. András Palkó MD, PhD (Szeged/HU)
Chairman of the Program Planning Committee
Prof. Nikoleta Traikova (Plovdiv/BG)
Official Language
The official language of the Congress is English.
No simultaneous translation will be provided.
Scientfic and Commercial Exhibition
A comprehensive exhibition will be held at the Congress venue.
To obtain further information please contact the Congress Secretariat.
Congress Secretariat
K&M Congress PCO and Travel Agency
H-1064 Budapest, Podmaniczky utca 75., Hungary
Phone: +36-1-3012000, Fax: +36-1-3012001
E-mail: info@kmcongress.com
Congress Homepage
bcr2017.kmcongress.com
Important Deadlines
Deadline for Abstract Submission: 12 July, 2017 31 August, 2017.
Notification for Abstract Acceptance: 31 July, 2017
Deadline for Early Registration Fees: 31 July, 2017
Scientific program
12 October, 2017 13 October, 2017 14 October, 2017
The organizers reserve the right to make changes as seems appropriate.
Mobile app
We are proudly inform you that the mobile app of the congress is available. To download just read one of the QR codes below or type bcr2017 to the app store of your smartphone.
Registration fees
(including 21.26% VAT)
Before 31 July, 2017
After 31 July, 2017
BCR2017 + ESOR Course
Specialist
200.00 EUR
250.00 EUR
Residents-in-training
150.00 EUR
190.00 EUR
Radiographer
90.00 EUR
115.00 EUR
BCR2017 only
Specialist
150.00 EUR
190.00 EUR
Residents-in-training
100.00 EUR
125.00 EUR
Radiographer
80.00 EUR
100.00 EUR
Participation fees include: admission to the referred scientific program and the exhibition, congress bag, congress program, coffee and refreshment during the breaks, dinner on Thursday, 12 October
Accomodation
(including 15.25% VAT)
Danubius Hotel Helia

H-1133 Budapest, Kárpát u. 62-64.

Website Map
Single room
110.00 EUR/room/night
Single room with Danuve view
122.00 EUR/room/night
Double room
120.00 EUR/room/night
Double room with Danube view
132.00 EUR/room/night
Room rates include: include buffet breakfast, wifi connection, VAT, local tax, and use of the swimming pool, the thermal pools, jacuzzi, sauna, steam bath and the Danubius Premier fitness room.
Meals
(including 15,25% and 21,26% VAT)
| | |
| --- | --- |
| Buffet lunch | 26.00 EUR/PAX/day |
Social Program
(including 21,26% VAT)
Welcome Reception
Thursday, 12 October, included in the registration fee
Host city – partner city presentation introducing Budapest and Istanbul.
Cold and warm snacks and canapés, mini desserts, local wines, beer, soft drinks, mineral water, coffee and tea.
Great Market Hall Budapest
Friday, 13 October, price: 20 EUR per person
Departure from Hotel Helia at 10:00
Length of the event: 2 hours
The Great Market Hall (Nagycsarnok) built in 1897 is the most beautiful of all Budapest market halls (yes, there are more historical market halls in Budapest!). And the market is not only 'Great' in its size, but is also great in other aspects. Most importantly the market is also central, no wonder it is also called the Central Market Hall, for both of its location (5 min walk from the city center), and the volume of trade taking place here on a daily basis.
Banquet Dinner
Friday, 13 October, price: 60 EUR per person
Dinner and dance at the Hotel Helia.
Dinner includes full buffet menu and drink package with beer, wine, mineral water, soft drinks, coffee.
Guests are greeted with a glass of champagne.
Budapest sightseeing by bus
Saturday, 14 October, price: 25 EUR per person
Departure from Hotel Helia at 14:00 by bus
Length of the event: 3 hours
First, we take the Margaret Bridge and drive over to Buda, to the Castle District and during a short walk we show you the main attractions of the area: Matthias Church and the Fishermen's Bastion. Next stop is Gellért Hill from where one can enjoy the most spectacular view of Budapest. We then take you across the Elisabeth Bridge to Pest and show you the largest Synagogue of Europe, St Stephen's Basilica and the Opera House. We then take the Andrássy Avenue to Heroes' Square. On our way back to the hotel pass by Europe's largest thermal spa, and the Budapest Zoo. During the tour we offer a brief overview of the last 1000 years of Hungarian history.
Full-day Excursion to the Danube Bend
Sunday, 15 October, price: 60 EUR per person
Departure from Hotel Helia at 10.00
Duration appr. 8 hours, lunch included.
The Danube Bend is an excursion into Hungary's history. The tour along the 'Blue Danube' stops in Visegrád, Esztergom and Szentendre.
Visegrád: visit to the 750 year-old Royal Residence. Esztergom, the centre of the Roman Catholic Church in Hungary. Visit to the largest cathedral of Hungary and a glimpse across the river to Slovakia. The artist's village of Szentendre is a small baroque settlement, in a beautiful natural environment. Visit to the Margit Kovács Ceramic Museum and the Confectionery Museum.
Procedure of payment
(bank charges must be paid by the Registrant)
1) online by bank card via a secure bank connection
2) via bank draft made payable to K&M Congress, account no: IBAN HU28 1040 0212 5052 6666 7250 1014, K&H Bank, H-1095 Budapest, Lechner Ödön fasor 9. Swift code: OKHBHUHB
Registration
CLOSED.
Cancellation and refund
In case of cancellation
before 31 August, 2017 80 percent refund of the fees paid;
after 31 August, 2017 no refund.
Refund requests must be submitted to the Conference Secretariat in writing on or before 31 August, 2017.
GENERAL INFORMATION
Weather
The weather can be entirely changeable in Budapest in October, temperature ranges between 7-16 ℃. However, cooler nights and showers may occur.
Dress
is informal at all occasions.
Visas
Holders of passports issued by several countries are granted, under bilateral agreements, visa-free travel to Hungary. For a full list please visit the Consular Services website: konzuliszolgalat.kormany.hu/visa-waiver-agreements
Currency, exchange, bank cards
The official currency is the Hungarian Forint. Exchange facilities are available at the airport, in hotels, at banks. ATMs are available throughout the country. American Express, Visa, Diner, Eurocard, MasterCard, JCB cards are mostly accepted in hotels, restaurants and city stores, but you should ask before ordering a service, or buy.
Insurance
The Organizing Committee does not assume responsibility for injuries or losses occurring to persons or personal belongings during the conference. Participants are therefore advised to carry the proper travel and health insurance.
Electricity supply and phone
In Hungary electricity is supplied at 230 V, 50 Hz like in most European countries. The 2-pin connecting plug is different from that used in some other countries (e.g. USA, UK, Japan etc.). Phoning and mobile servicing background is according to European standards.
Travel
By public transportation: Hungary lies at the crossroad of the main tourist traffic in Europe. More than 30 regular and low cost airlines operate flights to and from Budapest. From Budapest Visegrád is accessible by bus or boat.
For timetables please visit the websites:
www.bud.hu - Budapest Airport flight information
www.volanbusz.hu - bus timetable
www.mahartpassnave.hu - riverboat and hydrofoil timetable
By car: Toll must be paid on motorways. Annual, monthly and ten-day vignettes are available. www.hungary-vignette.eu